How to download resources from the Commons
Once you have found a resource of interest, you can often download it right from the Commons.
From the Resource's Main Page
Along the right side of the resource page across from the Resource Type you will see either View or Download options. View implies the resource is online, it does not preclude you from saving a copy, that is just not the native behavior; feel free to save using the tools available in your browser. Clicking Download on the other hand initiates a Download of the selected resource type, from the FTP site.
Sample resource page:
Clicking Download will launch a Save Dialog, as shown below. In this case we are downloading the zipped Esri File Geodatabase Version of the Minnesota County Boundaries. An alternative means of getting to this point, from the FTP Site, is presented below.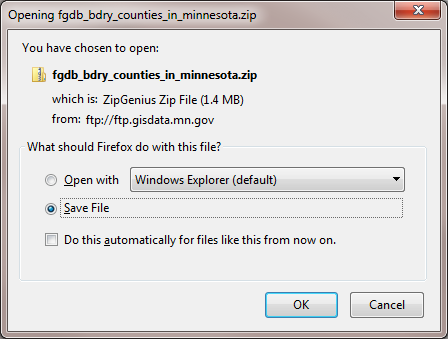 From the FTP Site
There are numerous ways of getting data via FTP, below are three common ways you may encounter, but this is by no means exhaustive. Feel free to use the FTP Client of your choice or just download using the direct links, as shown above.
Firefox

Internet Explorer

Windows Explorer