Evaluating Results
After finding resources on the Commons, the next step is to evaluate them to determine whether they meet your needs.
The search results may return several resources that meet your search criteria. You can see how many datasets meet your criteria at the top of the search window. You can also see on the Filters area on the left-hand side of the page how these resources are described by organization, topic category, tags, formats and license groups.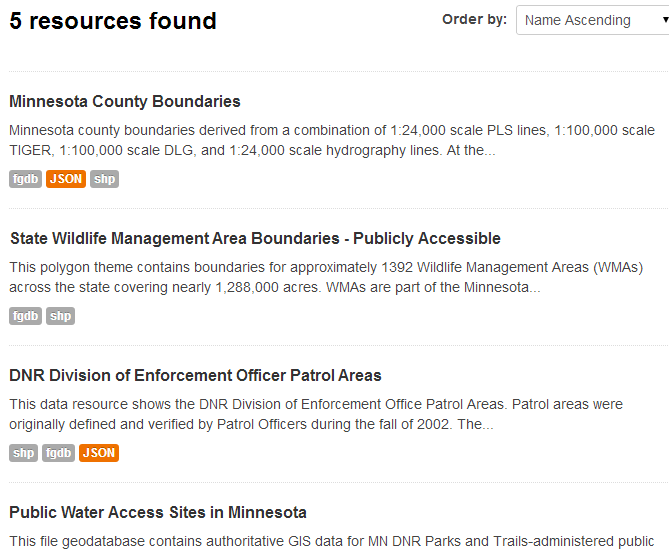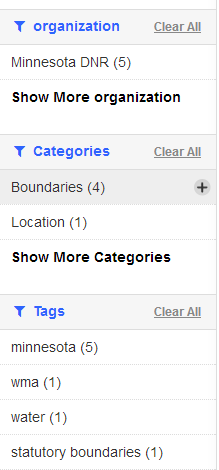 To determine whether a selected resource meets your needs, you can review the individual resource page. To get to this page, click on the name of a resource. On the resource page, you will find a short description of the resource (abstract), followed by links to available formats. To learn more about the types of data formats available on the Commons, see the Resource Format page in the library section of the help.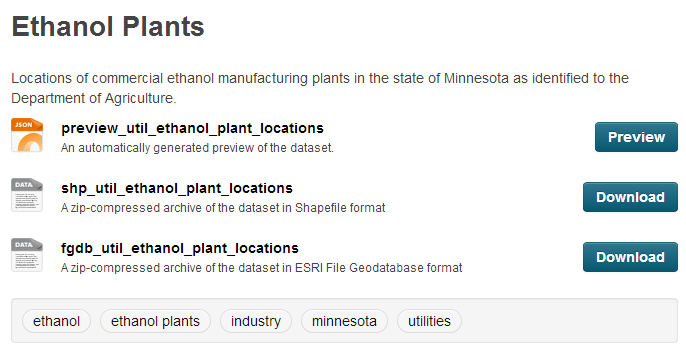 After the list of formats, the keywords for the resource are provided. Keywords are words or phrases describing the theme and/or place of the data set,  In the example above the keywords for this resource are ethanol, ethanol plants, industry, minnesota and utilities.
In addition, several other pieces of information about the individual resource are provided:
Access constraints - This explains any constraints on accessing the data directly (such as a license agreement).
Date details - This describes the date for this resource.
Originating organization - This lists the organization which created the resource.
Date of content - This provides the date of the content of the resource, and may differ from the date the resource was published. 
Purpose - This defines the intended purpose or use for the resource.
Extent - This provides a map that shows the geographic extent of the resource.
Metadata URL -  If the resource is a GIS dataset, then it will have a metadata URL which links to a full metadata record.  This metadata provides a full description of the dataset, including the source materials, production process, accuracy of the cartography and data attributes, and contact persons who could provide more background on the data. Learn more about metadata.