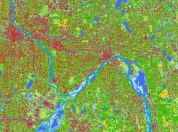 In honor of Geography Awareness Week, we'd like to announce the availability of several long-awaited datasets.
Land Cover and Impervious Surface Data
Researchers at the University of Minnesota conducted a statewide update and enhancement of land cover and land use data, culminating in the release of four datasets:
Statewide:  This landcover and impervious surface area dataset, created at 15-meter resolution using 2013 Landsat data as well as LiDAR elevation data, covers all of Minnesota.
Twin Cities, Duluth and Rochester:  Higher-resolution (1-meter) regional landcover datasets cover Duluth, Rochester and the 7-county Twin Cities metro area. The numerous information sources included 2015 leaf-on imagery, earlier leaf-off imagery and a recently updated wetlands inventory.
This project was made possible by the Minnesota Environment and Natural Resources Trust Fund.
Twin Cities 2016 Imagery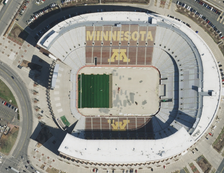 New digital orthoimagery covering the 7-county Twin Cities metropolitan area is now available via an online image service. This 1-foot resolution imagery, flown in spring 2016, is provided in both natural color and color infrared versions.
Project partners included the Metropolitan Council, the Minnesota IT Services' Geospatial Information Office (MnGeo), the Metropolitan Mosquito Control District, and Anoka, Carver, Dakota and Scott counties.