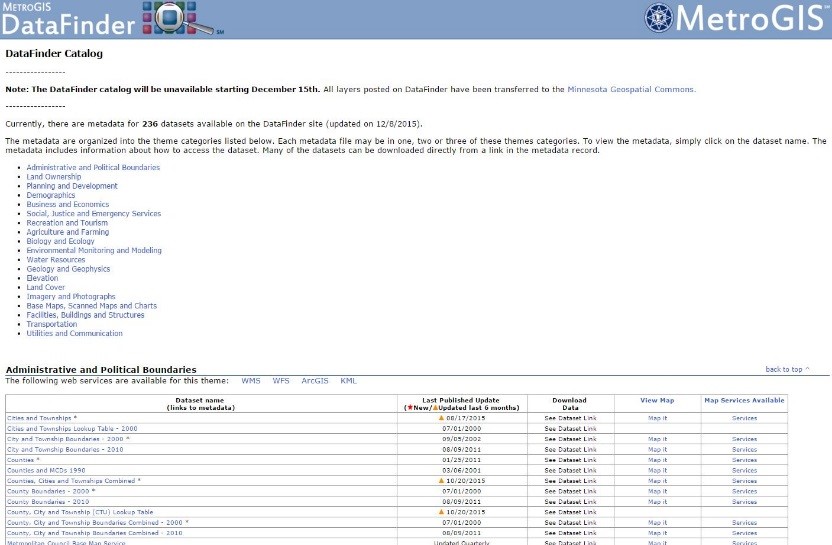 On December 3, the total number of resources available on the Geospatial Commons surpassed 500 for the first time. This is due to two major publishers: the Metropolitan Council and MetroGIS. Growth from these two publishers also completes one of the original goals of the Commons Project: retiring publisher-specific data delivery sites like DataFinder.org.
After seventeen years, DataFinder will formally retire on December 15, 2015. The datafinder.org site began in spring of 1998, two years after the founding of MetroGIS. It served as both a premier repository of GIS data and a "proving ground" of how to best deliver data to the user community. At its peak, DataFinder housed over 320 geospatial resources from a range of geospatial data producers across the metropolitan region. Key features included standardized metadata, downloadable spatial datasets, web mapping services and an application for online data browsing. The DataFinder also served as a registered National Spatial Data Infrastructure (NSDI) clearinghouse node. Many notable Minnesota GIS luminaries provided their time and expertise to the creation, care and feeding of DataFinder, including Mark Kotz, Alison Slaats, Randy Johnson, Rick Gelbmann, Jessica Deegan, Jon Hoekenga, Tanya Mayer and Matt McGuire.
With the formal arrival of the Minnesota Geospatial Commons in 2015, all datasets produced by the Metropolitan Council, or assembled as regional datasets under the aegis of MetroGIS, will be available from the Commons. The Metropolitan Council and the entire MetroGIS community look forward to the long and productive life of the Geospatial Commons!